Hairless Kitten Dumped By Breeder Shows Rescuer She Has A Gift For Helping Others
When Ruth was sent a photo of a sickly, hairless kitten, she remembers how she "instantly fell in love."
The kitten's name was Raisin, and she had been dumped by a breeder because she wasn't in good health. Luckily, the kitten was taken to a nearby clinic where she met a vet named Dr. Barbara Lewis who immediately took a liking to her. The doc sent a picture to her friend Ruth, a vet tech, and Ruth knew that she could give Raisin the purrfect forever home once she was ready.
"I decided Raisin needed to be with me after I heard her story and by just looking at her picture," the happy cat-mom told heartbeats.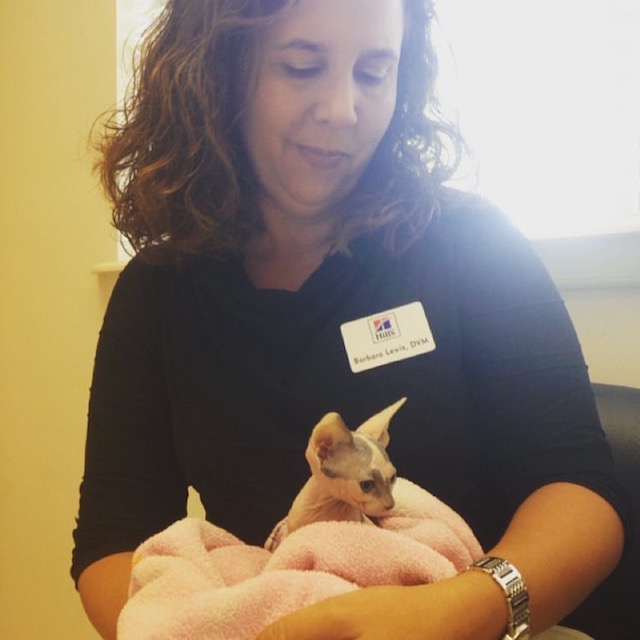 Meanwhile, a dedicated vet student named Lindsey nursed the kitten back to health, giving her round-the-clock care, which ultimately saved her vision. Raisin received extensive treatment for an eye ulcer, and against all odds, was able to keep the eye that almost had to be surgically removed. (Lindsey also fostered Smush, who we recently wrote about – it looks like she has a promising career ahead of her!)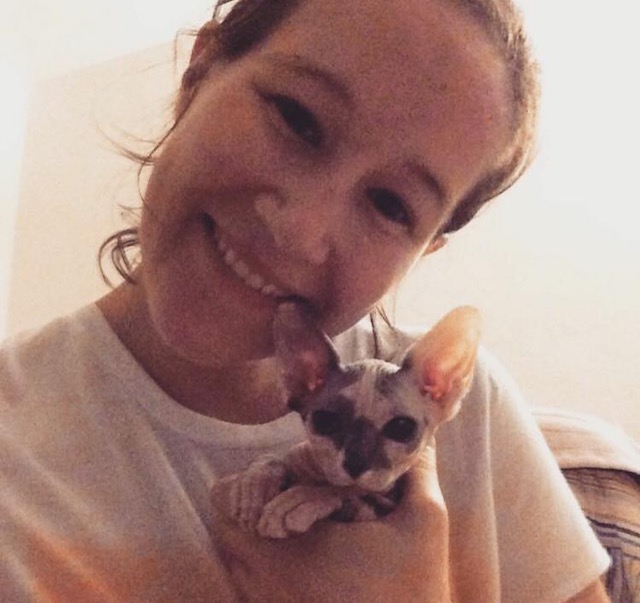 With her heart set on adopting sweet little Raisin, Ruth happily embarked on a "road trip" once it was time to take her home.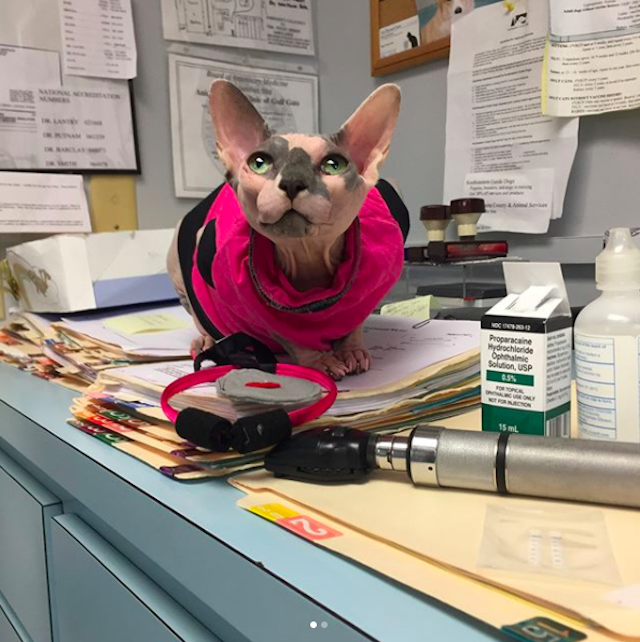 After she settled in with her new family, a special gift emerged: the kitty, who was once sickly and abandoned, has a knack for comforting other animals in need!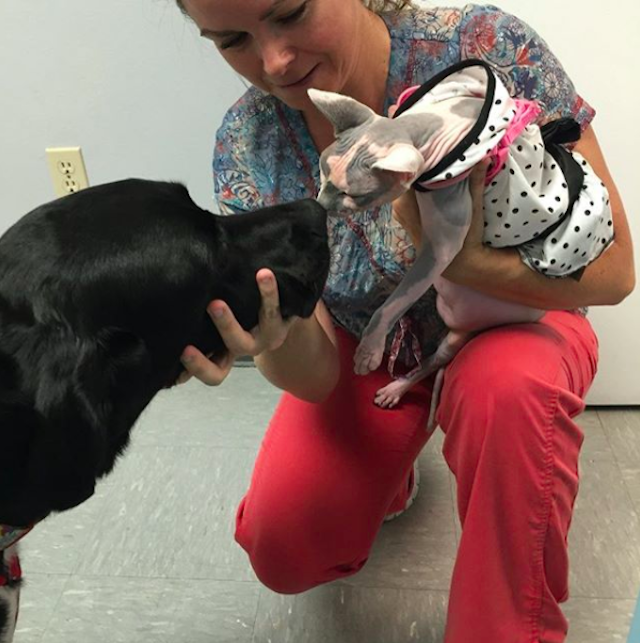 It all started one day as Ruth headed out the door for her shift at the vet clinic. Raisin decided to tag along. "Raisin is the one who decided she wanted to come to work with me, she followed me into the garage with a meow," Ruth said. "From the first day of bringing her [to the clinic], she made it her second home. She loves meeting the patients that come in, and she has made our staff her extended family."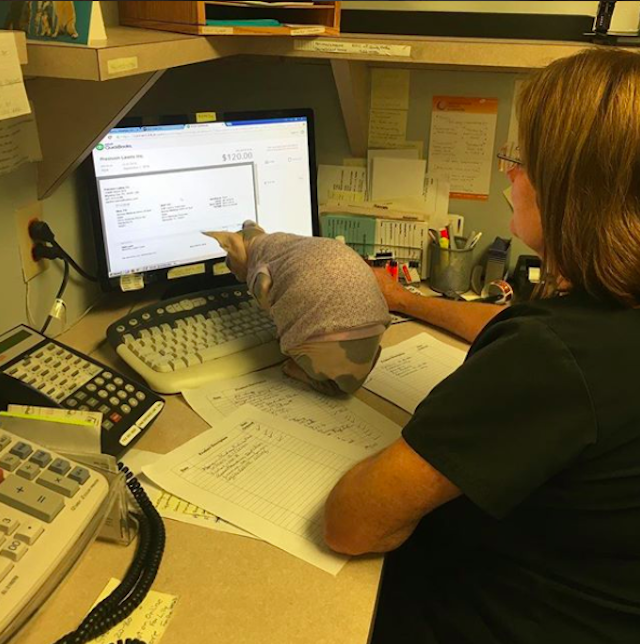 "Raisin is very gentle with the animals she meets, and loves to snuggle with surgery patients when they are waking up."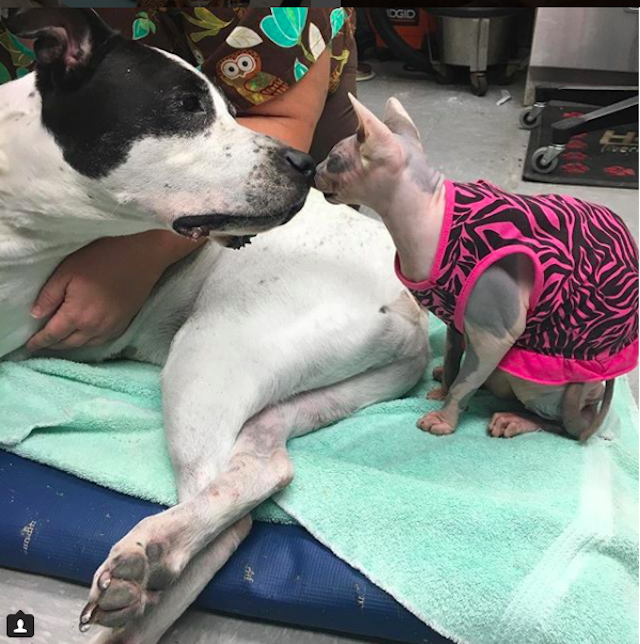 When she's home, the social cat enjoys spending time with her furry siblings. Sadly, her senior Greyhound sister, named Pepper, recently passed. Ruth said that the kitty "loved her very much."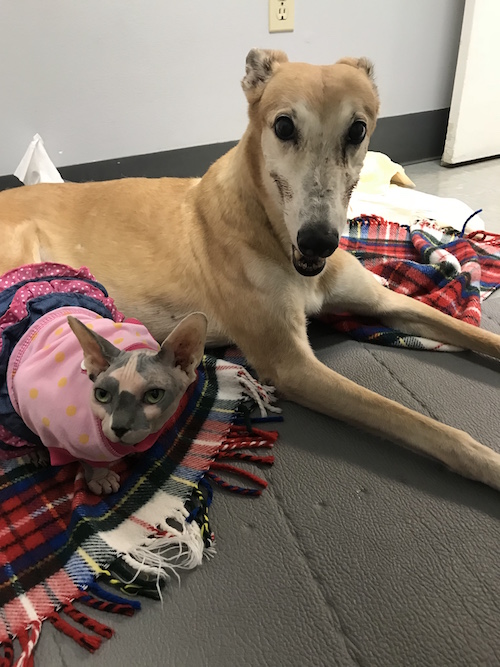 Raisin is also very fond of her brother Coco Bear, a male Manx cat who she cuddles with every night.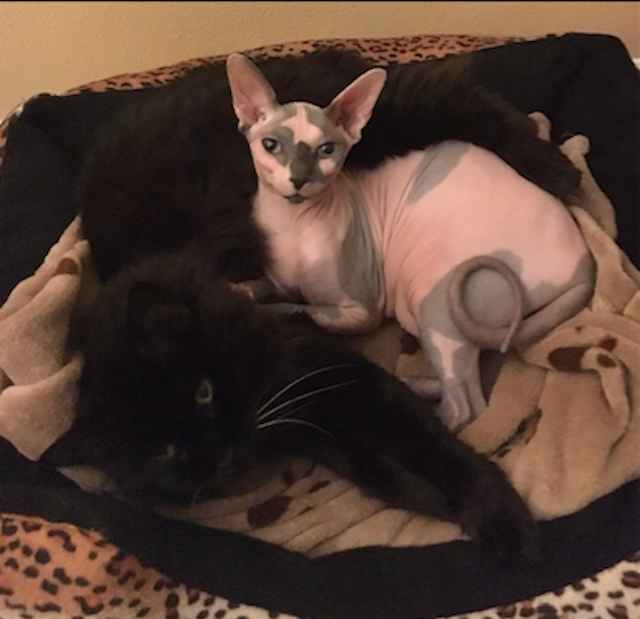 We're so glad that Raisin was rescued and is able to help comfort other pets when they're feeling under the weather. It's almost as if she's extra compassionate because of her past, and she'll do anything to make the other patients feel better!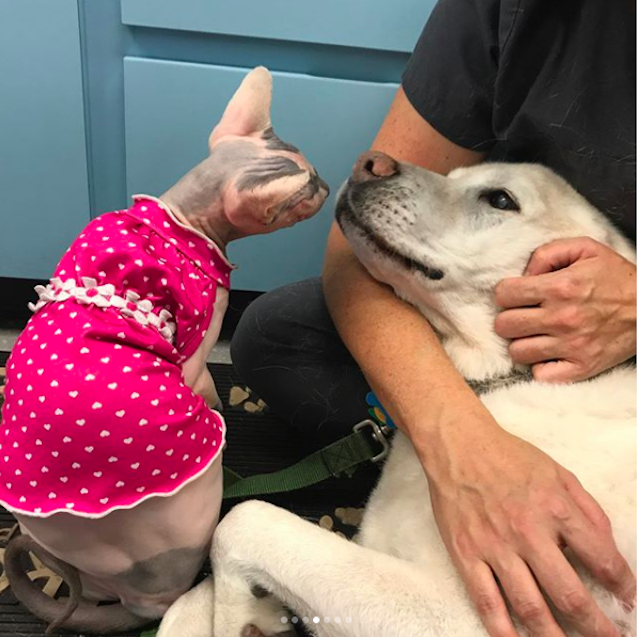 This is one special kitty!
Keep up the good work, Raisin! You can follow this sweetheart's adventures on Instagram and Facebook.
Special thanks to Ruth for letting us share this heartwarming story!