Rescuers Save Stray Kittens Born In Meat Warehouse
It can be a big, scary world for helpless kittens who are born as strays. But for one furry family born in a meat warehouse, their first "home" was particularly dangerous.
When RSPCA inspector Callum Isitt got word that kittens were being given away "for free" in the back of a grocery store in Peckham, London he knew that the felines' lives may be in danger.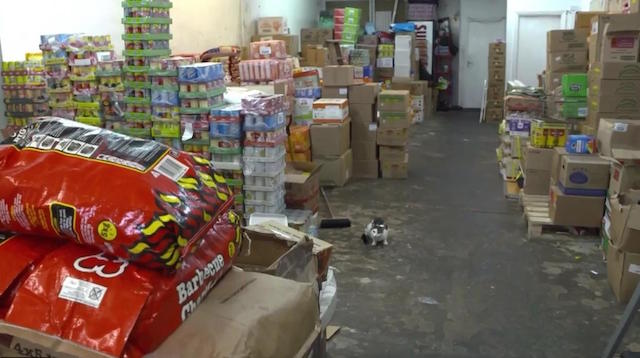 Upon arriving, the cooperative staff brought the inspector to the back of the meat shop where the mama cat was huddling with her four kittens in stacked boxes next to the butcher's counter. The employees explained that they had adopted her to catch mice, but it seems they were not prepared to house her whole litter.
Inspector Isitt explained in a press release by the RSPCA:
"The staff had got the Mum cat originally as a mouser, but they didn't have her neutered, and of course the inevitable happened – she became pregnant. All the stacked bags of rice on the large shelving unit provided the perfect dark hiding spot for her to have the kittens.
With all the stock and machinery around, it was a really dangerous place for cats and kittens to be living."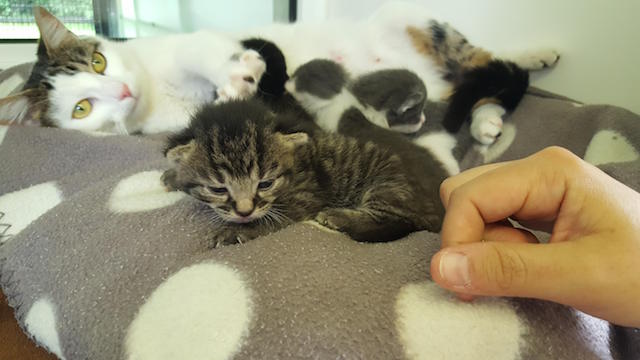 The well-meaning staff knew that this was no place for a new mama cat and her babies, but weren't sure what to do. So, they tried to give the kittens away to families who may want a feline friend. Luckily, the RSPCA inspector arrived before they could have fallen into the wrong hands!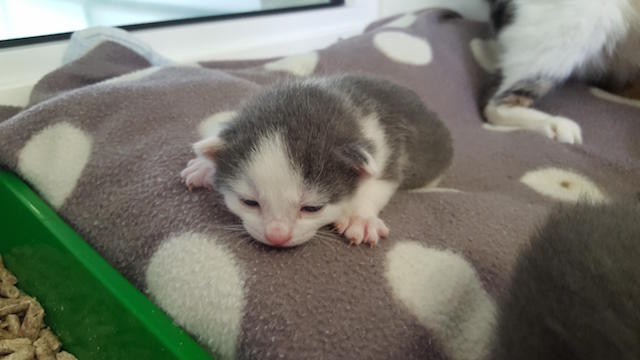 The rescuers immediately went to work saving the feline family.
"The mother cat proved a little bit tricky to catch at first, but once I'd popped the four tiny kittens into the carrier, Mum gave up and let me pick her up and pop her in with them. I put a towel over the carrier to keep her calm while I transported the family to our RSPCA South Godstone centre where a nice warm cat bed and a good meal was waiting for them."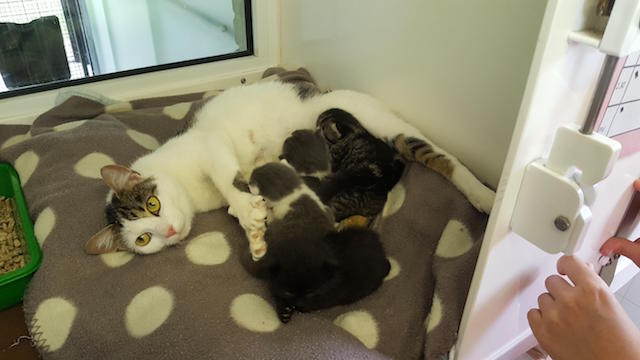 Since the kitties were found near the butcher section of the store, they all got Sweeny Todd-inspired names: Lucy, Joanna, Nelly, Tobias and Todd!
Once in the care of the rescue, the furry crew expanded a little more. When an orphaned kitten named Esmerelda arrived, and Lucy happily welcomed her into her loving care with the rest of her litter!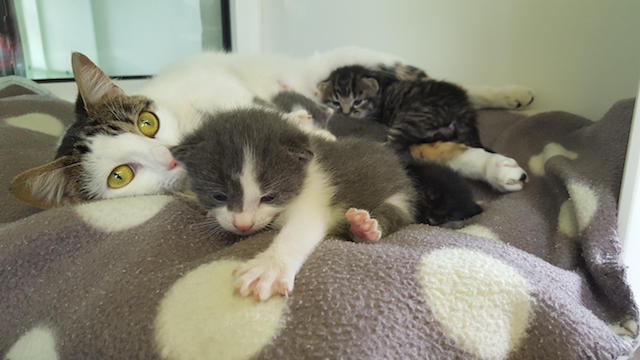 The RSPCA gave this update on the cats:
Happily, just a few months later and the future is far brighter for Lucy and her kittens, who have all since found new homes. Nellie and Todd were rehomed together to Berkshire, Esmeralda and Tobias started a new life in Sussex and Joanna and Lucy were rehomed separately to loving homes in Redhill.