Senior Shelter Cat With Special Needs Receives A Letter From A Secret Admirer
Simba is a beautiful 11-year-old cat. He has a gorgeous lion-like appearance and is a loving, affectionate soul. He's been living in the shelter at the Oregon Humane Society since January and is in desperate need of a forever home.
Unfortunately, Simba also suffers from diabetes and serious neuropathy in all four paws, making it difficult for him to walk. Right now he still needs insulin shots to manage his condition and finding a home for a senior cat with special needs is a difficult task.
Fortunately, it appears as though Simba does have some admirers. He recently received an anonymous, handwritten letter from an "Allergic Admirer."2.4MStocks Slump After Reaching Record High
The postcard reads: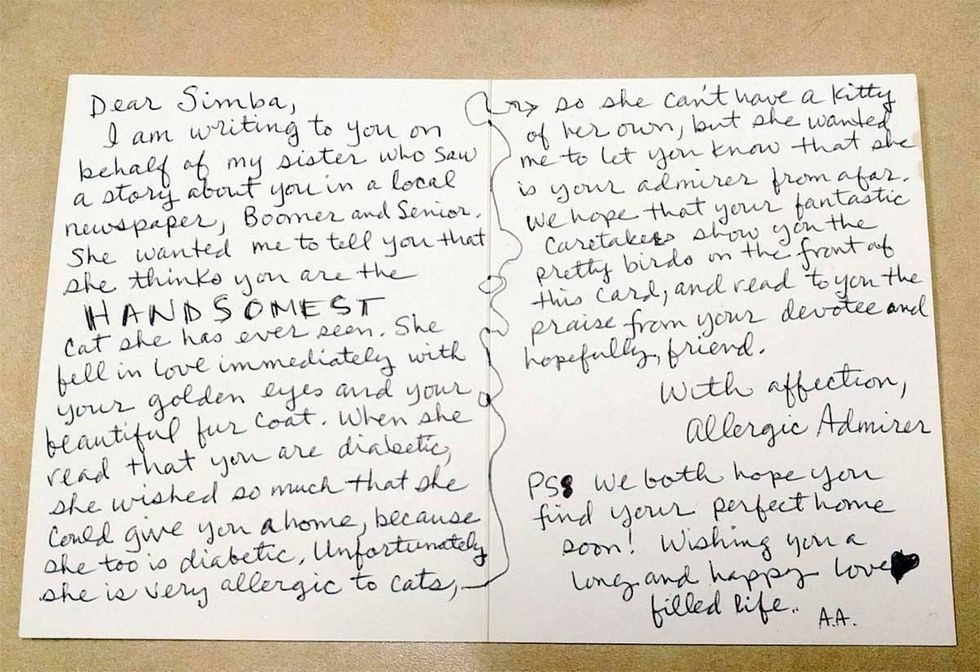 "Dear Simba,
I am writing to you on behalf of my sister who saw a story about you in a local newspaper … she wanted me to tell you that she thinks you are the HANDSOMEST cat she has ever seen. She fell in love immediately with your golden eyes and your beautiful fur coat. When she read you are diabetic, she wished so much that she could give you a home because she too is diabetic. Unfortunately she is very allergic to cats, so she can't have a kitty of her own, but she wanted me to let you know that she is your admirer from afar. We hope that your fantastic caretakers show you the front of this card, and read to you the praise from your devotee and hopefully, friend.
With Affection,
Allergic Admirer
P.S. We both hope you find your perfect home soon! Wishing you a long and happy love-filled life. A.A."
The Oregon Humane Society hopes that sharing this sweet, inspiring letter brings to light the benefits of adopting a senior cat like Simba, even with special needs. His diabetes shouldn't scare anyone away. Many cats can go into diabetic remission with proper treatment and care. So although he needs insulin shots, adequate exercise and a proper diet, he may be able to wean off the injections in the future. Right now, though, he does need some special care.
The Oregon Humane Society still hopes to find Simba the perfect home. You can help by sharing Simba's video and getting the word out that this special feline is ready to make a wonderful companion for someone who needs a new friend. He may have special needs, but he's a very special feline that deserves the amount of love and attention he received from his Allergic Admirer and the staff at the Humane Society.