The "Cat Rescue Guy" Makes It His Mission To Save Cats Stuck In Trees – For Free
When most people retire, they take the opportunity to relax, travel, and delve into hobbies after years of hard work. But Randall Kolb, who lives in Baton Rouge, Louisiana, made it his mission to rescue local cats who've found themselves stuck in trees – for free.
Just two days after retiring from his career at Information Technology Services at LSU, Kolb's wife, Judy, discovered a kitten in need that would end up inspiring his next mission.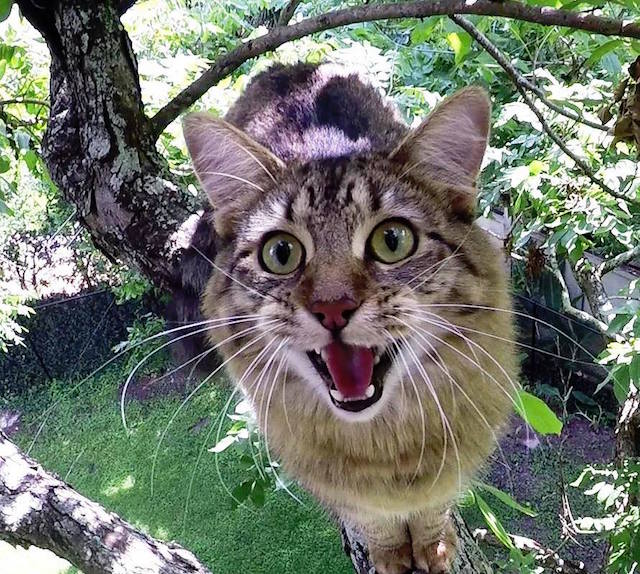 "My wife came home from a walk in the neighborhood and told me she found a cat stuck in a tree a block away. No one knew the cat's owner, so I took responsibility for the cat," Kolb explained on his website.
"I began looking for someone who could rescue him and found myself running into frustrating dead-ends everywhere I turned. I felt so helpless. The cat wanted down, and I wanted to get him, but we had no way to make that happen."

After hours of searching, Kolb found this directory of cat rescuers and was finally able to locate one in his area.
"When I saw how he did it, I was so impressed that I decided right then that I wanted to learn how to do that myself," Kolb said. "So, I did."
Kolb started tree climbing training and practiced for about a year. He learned how to scale trees without damaging them, and to work with different cat personalities in order to have the best chance of getting them down safely.
Once he felt ready to start rescuing frightened felines in need, Kolb called the local animal control to let them know that he was ready and willing to help. Since they receive about 50 cat-in-tree calls a year, they happily agreed to refer panicked cat parents to the big-hearted retiree.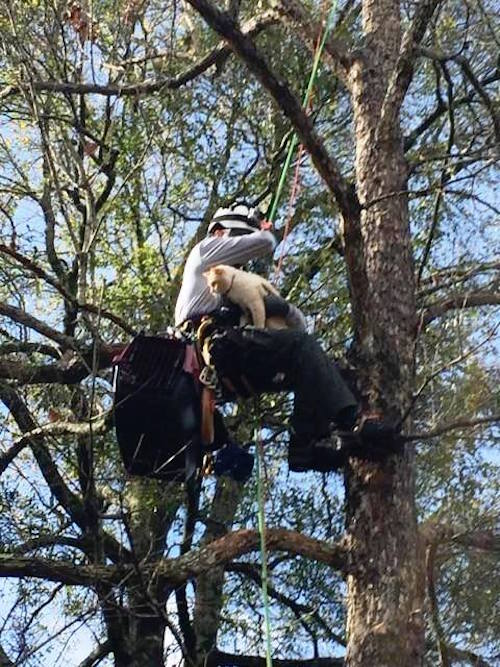 Once the city's original "cat rescuer" moved out of state (the same man who saved the cat Judy found), Kolb became the area's only tree-scaling cat hero, and is known simply as the "Cat Rescue Guy."
Despite dedicating hours to saving felines in peril, Kolb absolutely refuses to accept payment for his services. And when people insist on paying Kolb for his services, he asks that they donate the money to a welfare organization, instead. He does, however, accept photos of kitties who are enjoying life, post-rescue!
"I rescue cats for free because I love cats, I hate suffering, and I don't want the cat to suffer just because someone can't pay," he said. "Besides, I am retired, so I have the time."

"This is one way in which I am uniquely suited to reduce suffering, and it gives me great joy to do so."
Kolb has been the Cat Rescue Guy for 3 years now and has saved around 140 cats. He told iHeartCats that being able to bring happiness and relief to both felines and their humans are what makes his hard work worth it!
"Often the owner and family suffer more than the cat does, so when I rescue a cat, I am also rescuing at least one person, as well," he told us. "I like to watch [cats and their humans] reconnect with each other, and I tend to feel their emotions along with them. It is a beautiful sight to see them restore their bond with each other, and it is very rewarding for me to be able to make that happen."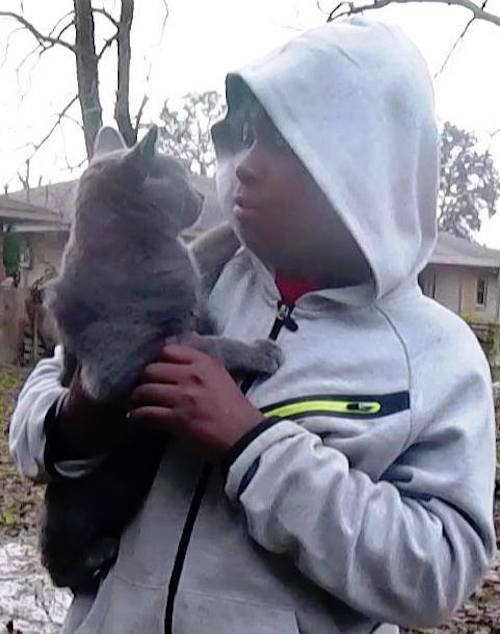 The cat hero explains that many felines get "stuck" because they have back-curving claws, which they're able to hook into the tree as they climb up. However, they can't climb down head-first. Kitties usually need to climb back to dig their claws in on the way down, and if they don't know how to do this, or they begin to panic, they freeze. (Check out Kolb's article on why cats get stuck in trees.)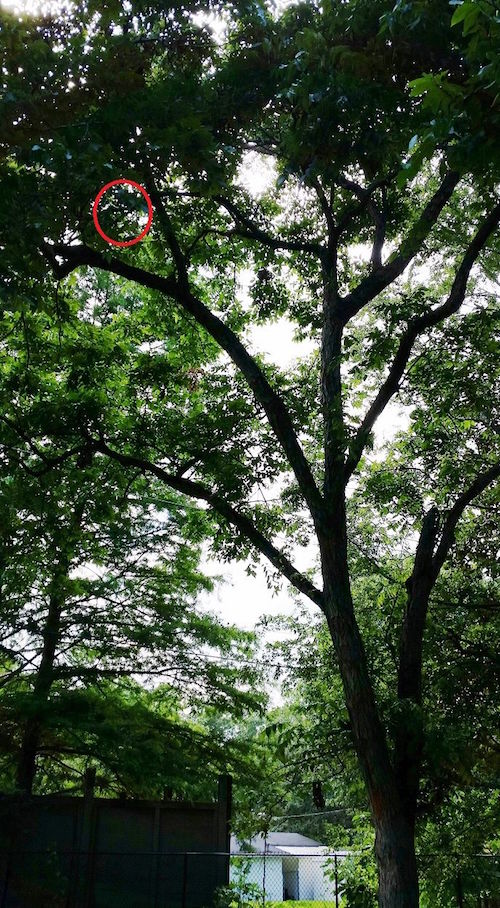 He also has some advice for cat parents who may find themselves at the base of a tree, looking up at their beloved cat high in the branches:
"First, clear the area under the tree of any hard objects that can be moved, so the cat will land on clear, soft ground if he falls. If a dog or another cat chased it up the tree, then remove them so that the cat feels safe to come down. Calm the environment as much as possible by stopping all activity, noise and distractions. If possible, give the cat some time to learn how to come down on its own. Some do better with you coaxing them down, while others do better by leaving them alone for a while."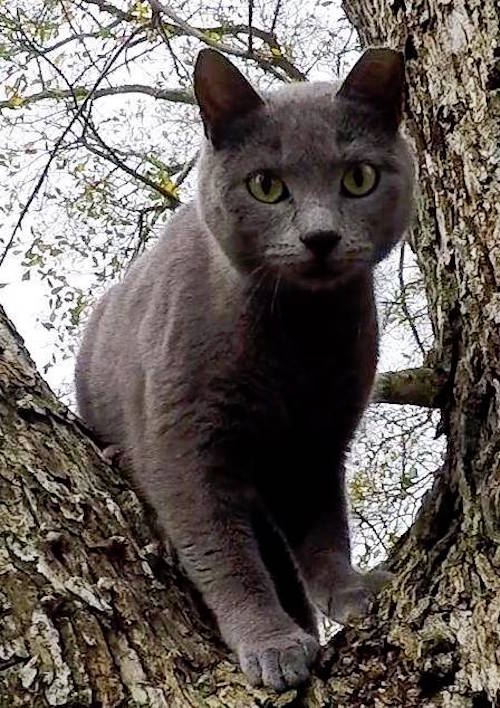 If all this doesn't work, check out this cat rescuer directory, listing people who specialize in freeing cats from trees from all over the US. Kolb explains that, even if there isn't someone nearby, call the closest person — you may be surprised at how far some will go to rescue a cat!
If all this fails, contact a local welfare group or animal control. Even if they can't help, they may be able to point you in the right direction. Of course, if you're in the Baton Rouge area, you can always contact the Cat Rescue Guy, himself.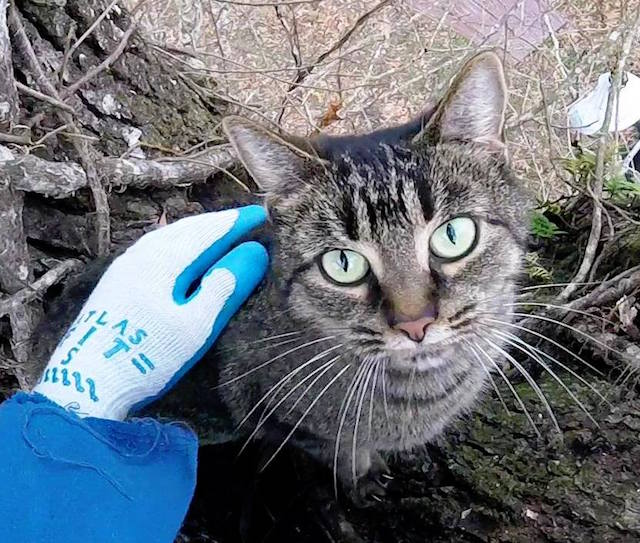 You know your cat best, so if you're sure that they're really stuck, trust your instincts and don't wait an unsafe amount of time for them to come down.
"[Some people] especially love to say that they have never seen a cat skeleton in a tree. Ignore them. Despite how confident and authoritative they may sound, they have never studied the matter and don't know anything about it. Heeding their advice only prolongs the suffering — both yours and the cat's," Kolb said.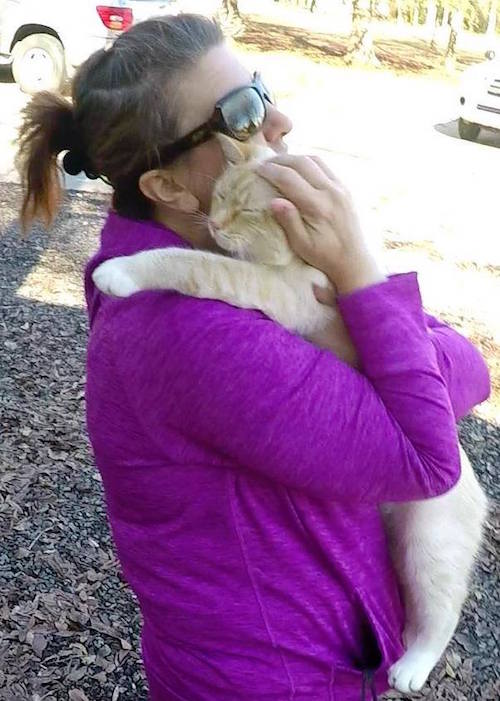 Of course, this big-hearted retiree and his wife have a kitty of their own, "a sweet calico" named Callie who they adopted from a shelter when she was 4 years old.
For rescue stories, information about cats getting stuck in trees, and steps to take before calling for help, check out the Cat Rescue Guy website and Facebook page. We want to give a special thank you to Randall Kolb for his selfless work, and for letting us share this awesome story!